***Training Announcement*** Basic Fire Investigator Course South Region Weeknight Course
***Currently Registration is Full***
The New Jersey Chapter of the International Association of Arson Investigators
 Presents
The Basic Fire Investigator Course
SOUTH REGION
Weeknight Course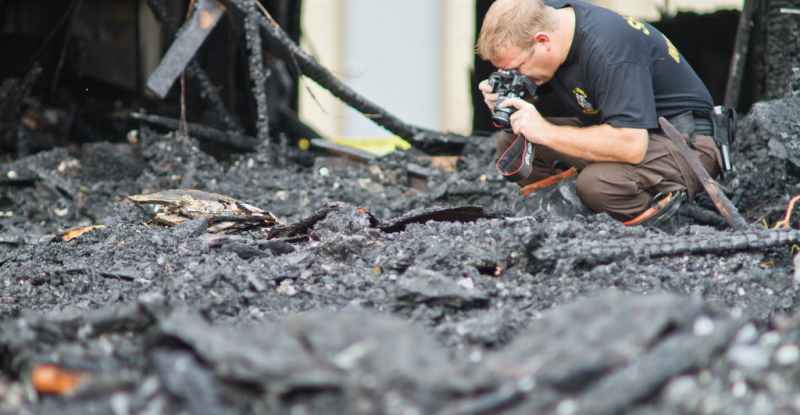 This is a basic fire investigation course designed to provide the student with the knowledge through lecture and hands-on exercises to understand the fire investigation processes. The course will cover the relevant investigative disciplines by incorporating nationally recognized standards, reference materials, and guidelines in the course curriculum.
Classroom lectures and practicals will be hosted at the Camden County Regional Training Center in Blackwood, NJ. Classes will commence on Tuesday, March 8, 2022 and run from 19:00 to 22:30 hours until Thursday May 12, 2022. A class schedule will be provided the first day of class.  Classes will be held on Tuesday and Thursday nights with two full day Saturday classes toward the end of the course.  One of the Saturday classes will be at held at Burlington County Fire Academy for vehicle fire investigations.
The fee for the course is $750.00 (Note: the fee includes a one-year membership in the New Jersey Chapter). Fees include all course materials, and student textbooks.
Class size is limited to 25
Prior to the start of the Basic Fire Investigation class, the student must have completed the Fire and Explosion Investigation courses from CFI Trainer.net.
Documenting the Event
Ethics and the Fire Investigator
Fire Investigator Scene Safety
The Scientific Method for Fire and Explosion Investigation
Basic Electricity
Arc Mapping
CFI Trainer.net is free and will be referred to throughout the class. It can be found online at http://cfitrainer.net. You must register to be able to complete the assignments and will receive a transcript of the training completed. Once registered, the site allows you to proceed at your own pace, over a number of days if needed. During the first night of class the transcripts of your training completion will be collected. If you have any questions, please feel free to contact any of the below listed NJIAAI members.
For further information contact:
trainingnjiaai@gmail.com
Payment will be accepted in the form of Credit Card, PayPal, Electronic Check, Personal Check, or Purchase Order (deferred payment)
***If paying by Purchase order, a scanned copy of the PO  with number must be received via email 30 days prior to class or student will be not permitted to attend.  All PO's will have the students name and organization on the form.  PO's that are received will be signed and emailed back or signed after completion of course.  Scanned PO's should be emailed to the following address: njarson@njiaai.org.  ***
MAKE ALL CHECKS AND PURCHASE ORDERS PAYABLE TO: NJIAAI
Mailing Address:
P.O. Box 349
Deepwater, NJ 08023
REGISTRATION  FOR SOUTH REGION BFI WEEKNIGHT COURSE CAN BE FOUND AT THE FOLLOWING LINK:
South Region Weeknight BFI Course
Questions or concerns can be directed to:
South Region Vice President Bob Carr 609-929-7193 Cell
South Director Dave Wallace 609-868-2212 Cell